My work Noahs Ark can now be seen at Salon 2022
group and sales exhibition
December 16, 2022 to January 9, 2023 (closed from December 24 to January 1)
Arti et Amicitiae, Amsterdam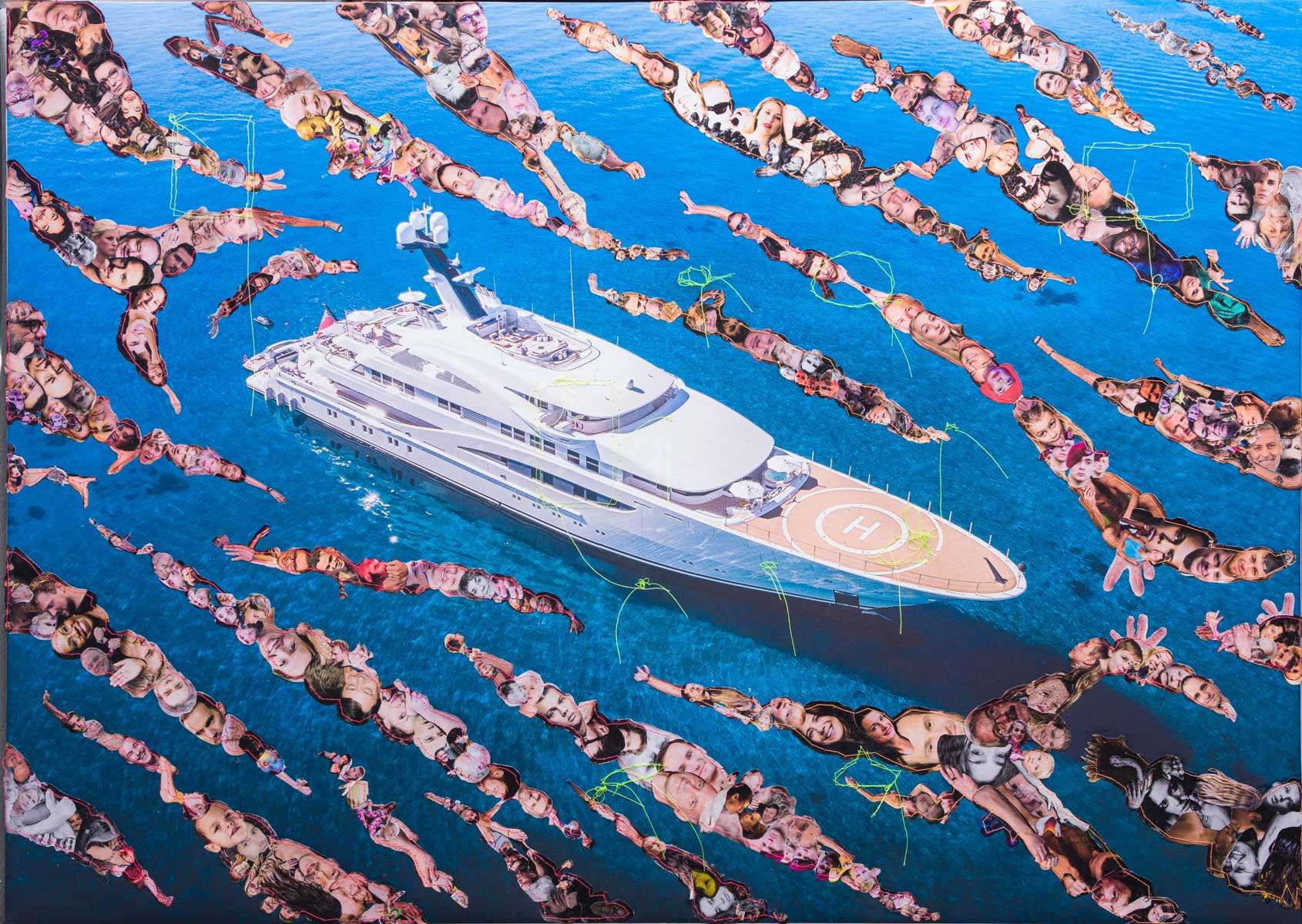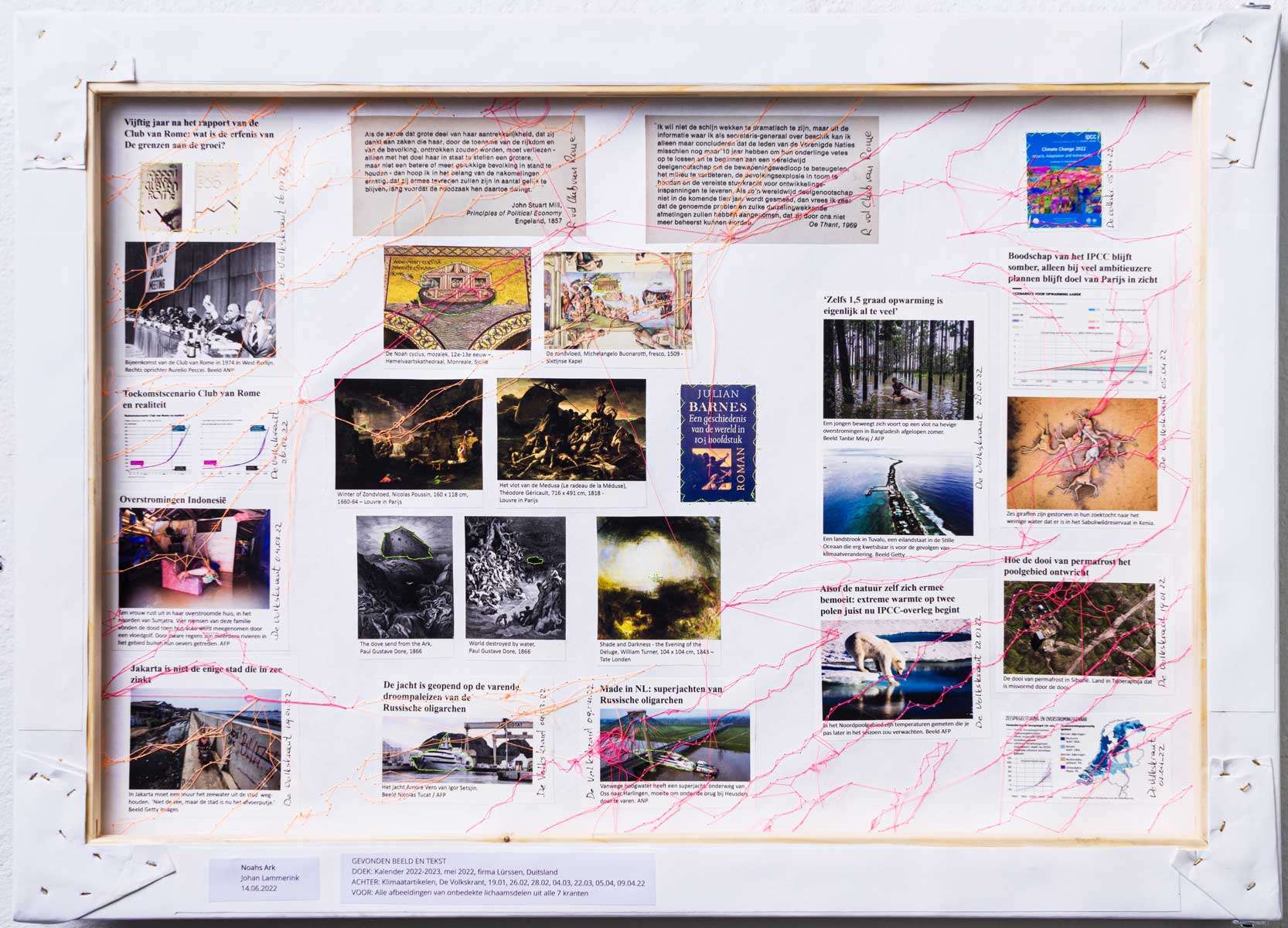 Noahs Ark (front and back) / found imagery and texts, tyvek, paper, yarn / 72 x 50 cm / 2022 / foto AT
My story about Noahs Ark starts with a calendar found in early 2022 with images of oversized luxury yachts. One of them forms the backdrop on which the story plays out on both sides. At the same time, there is an article in the newspaper about the 50 years since the release of the Report of the Club of Rome, on the legacy of The Limits to Growth. I envision how the owner of such a luxury yacht as a modern-day Noah is perhaps the most likely survivor of the coming "climate crisis deluge."
In a newspaper, articles and messages can cause abrasive effects, whether pleasant or not, because of the surprising and sometimes disruptive way in which they are grouped together. Next to each other or on each other's backs they make new connections and provide me with new impressions and feelings every day.

With the same apparent randomness with which articles in the newspaper come together one day, I use all the people depicted from all articles in the same newspaper. In addition to a headline or image from a newspaper article about the climate crisis, I have now collected all the depicted people from that same newspaper as models for characters in my story about the imminent deluge.
While poking holes in the canvas, I connected the images of the people with colored yarn to the images on the back. There it forms a colorful fabric that connects the headlines and images from the newspaper articles. Points of departure are three books, the 1972 Club of Rome Report mentioned above on the top left and the recently released IPCC Report on the top right.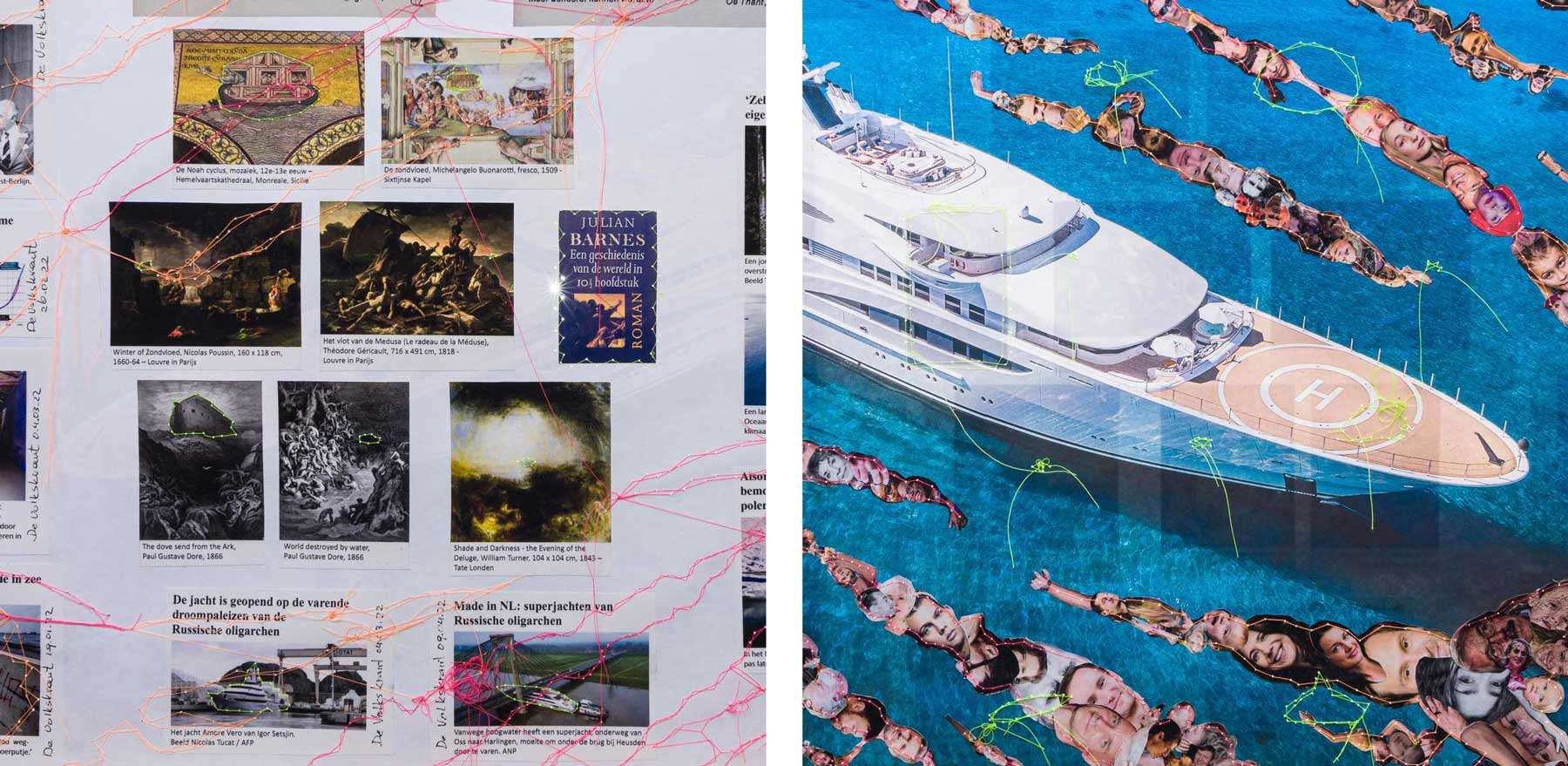 In the third book, A History of the World in 10 ½ Chapters, Julian Barnes shines, among other things, with stories about Noah's Ark, history and context of Gericault's The Raft of the Medusa, and other artworks about Noah's Ark and the Flood. Images of this and other works of art form a focal point on the back cover with the image of the book. The shapes of the 'arks' from the images are poked through the canvas with neon green thread and stitched. And the two Reports and Barnes' book have been made neon yellow focal points in the same way.
On closer inspection, the situation shown can perhaps also be outlined differently. Do the outstretched legs, arms and hands maybe indicate swimming groups of people, circling the yacht and harassing the modern wannabe Noah?
-----------------------------------------------------------------------------------------------------------------------------------------
My work Noahs Ark participates in the ClimateExpo '22
September 17 to December 4, 2022
at 3 locations: Kasteel Het Nijenhuis, Heino/Wijhe / Academiehuis Grote Kerk, Zwolle / Museum de Fundatie, Zwolle
ClimateExpo '22 is an exhibition with 251 artworks about climate change. The exhibition is curated by open registration and an anonymous selection. From 2200 works of art, 251 works were chosen by a large, mixed jury.
All works of art are for sale during the exhibition period.
The double sided work Noahs Ark can be seen in Kasteel Het Nijenhuis, Heino/Wijhe